About school
Helen Fashion Design School is a special professional educational establishment in the sphere of apparel design for students with different levels in training† and of different ages.† Our school maintains atmosphere of novelty and freedom. Out teaching style is typical of European schools. We founded our school in 2000 in time when old methods of teaching design in St. Petersburg and Russia were no longer effective. There was a great need in changing basics† of teaching this subject† and in the structure of a teaching process itself.† Freedom and experiment become† the main conditions of learning process.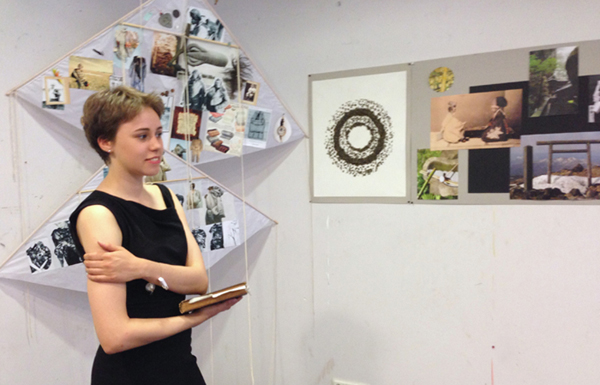 Fusion of traditional academic education of Russian Higher Schools and experimental and innovative approaches of† European schools: students study all the disciplines necessary for a full and high-quality designer† education. These subjects are: Costume Design, Historical Costume, History of Art, Painting, Drawing, ColorVision, Apparel Construction, Sewing Technology, Decorative Art and Crafts, Fashion Drawing, Computer Graphics,† and Fashion English.
Course of Practical Design has been developed by several teachers under the leadership of Leonid Alexeev. This course is based on projects and tasks of Central Saint Martins College of Art and Design, and† the Fashion Department of the Antwerp Royal Academy of Fine Arts and other Design Schools of Europe.
We believe in importance of making oneís professional choice early in life. That is why we accept students as yearly as 13 years old. It is possible to receive a diploma of professional education while finishing up general studies. A child of 7 to 10 years can start his or her education at childrenís school of design.† We, also accommodate needs of young people.† Age and training in arts do not matter. What is important, though, is studentís motivation.
Our Team of Teachers
Our school employs people who are passionate about teaching and subject of their expertise. These are the people who treat their students equally and with respect. Students and teachers become partners. Our teachers help young people to form designerís world view, to form a system of gathering material and research, and how to state a question. One of the main courses in design is led and taught by a famous Russian designer Ė Leonid Alexeev.
Preserving and developing individuality: intensity of learning and attentive guidance by our teachers and curators provide all the necessary conditions for fast personal and artistic growth.† It is our goal to inspire and encourage confidence in our students.
Multilayered approach and experience exchange: to find a strong connection between subjects and to appreciate its unity, our students work on several projects simultaneously. We believe that when environment is stimulating visually and intellectually, it is possible to create something completely new.† Our school is compact and comfortable, and it provides an atmosphere of friendship and partnership.† All of our students have an opportunity to witness each otherís growth.
Materials. Students are supplied with all the necessary materials throughout the whole year. We provide the tools for research and learning practical skills. The school has studios, sewing and printing equipment (Apple, Epson, Canon, etc.). Senior courses have a year-round access to the studios. We have a small kitchenette for food and snack breaks.
Perspectives. Upon graduation, students have a rare for Russian education, professionally organized portfolio of European standards. To master acquired skills, one can choose from: entering in one of the leading design schools of Europe or enrolling in program of higher professional education† at the Academy of Arts and Design in St. Petersburg. In the latter case, duration of study course is reduced to 2-3 years.